You can find me at
Ucreate
sharing a tutorial today. So exciting!!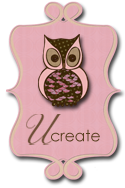 Be sure to head on over to find out how to make these charming
turkey placemats
with little pockets for the silverware.
Pottery Barn had something similar to this in their fall catalog several years ago. A friend asked me to help her make them. I declined and told her it was well worth the money to just buy them. Slacker, I know!
A couple of years later, after moving across the country, I was asked again--by a new friend--to make them. I decided it was time to figure out how to do it. So I did and shared it with a group of women from church. Unfortunately, I was so busy getting my example placemat together that I never finished my set. Then I had another baby and I was one short anyhow.
Finally, I just had to get it all together so I made a real tutorial for it!
Now mine are

(nearly)

finished!
Don't forget to check out the tutorial to make those cute little
pilgrims
, too!
Several people have told me the painting looked complicated but, trust me,
It is not difficult at all—especially if you know me!